Alongside new Philips Hue-branded Secure Cameras, Signify today announced the upcoming launch of new Hue lighting options. There's a new generation of Philips Hue Festavia string lights that can be used indoors or outdoors.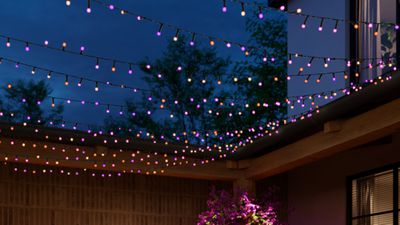 There are three varieties, including 100 LEDs on an 8-meter cord, 250 LEDs on a 20-meter cord, and 500 LEDs on a 40-meter cord. There are three new lighting effects designed for the Festavia lights in the Hue app, including Prism, Glisten, and Opal. The effects can also be used with the first-generation Festavia lights, and the Prism effect can be used on all Hue color lights.
A new MR16 Philips Hue bulb adds smart lighting to conventional spotlights. It works on the same 12V voltage as standard MR16 bulbs, so the bulb should fit into most existing fixtures.
The Philips Hue Centris is a combination ceiling spotlight that pairs a diffused main light with 350-degree adjustable spotlights that can be angled to highlight parts of the room. Each light can be set and controlled individually with the Hue app.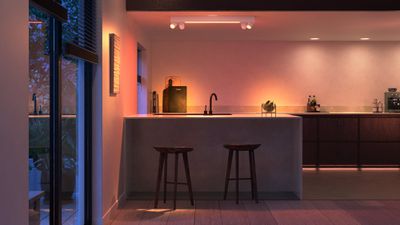 The last new lighting announcement is the Perifo track lighting that is composed of individual rails and lights that can be paried together to make a customizable track. Customers can choose layout, track length, and light fixtures, with the track able to be attached to the wall or the ceiling. As with the Centris, each light can be controlled individually with the Hue app.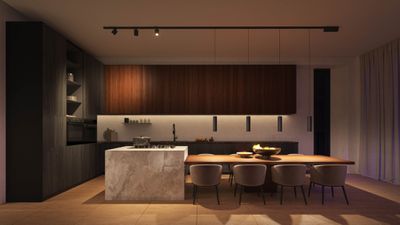 Starting in September 2023, Signify is updating the Hue Bridge with Matter support. When the update launches, the Hue system will be able to more easily integrate with Matter-compatible smart home devices and apps.
The new lighting options will be available starting in September. The Festavia lights will be priced starting at $120, while the MR16 bulbs are priced at $100 for a two-pack. The Perifo track lighting system is priced at $20 to $300, while the Hue Centris is priced at $310 for a two-spot set and $490 for a 4-spot set.
More information on the new lights can be found on the Hue website.