Local entrepreneur Brad Flower envisions his start-up company as the linchpin of an ecosystem offering musicians the space and time to create, explore, and collaborate. His victory as the winner of RIT's Center for Urban Entrepreneurship ROC the Pitch competition on Aug. 24 moves him one step closer to his goals.
The founder of DUTCH Creatives' Collaborative claimed a business-boosting $25,000 grand prize check and joined some of the region's newest business owners and potential investors at the celebratory event at Hyatt Regency Rochester. 
"The competition itself was super fun but, then again, I'm a ham and love to perform on stage," said Flower. "The energy in the room was palpable, and widespread support for each business was evident from the individual conversations with audience members, the cohort cheering each other on, and the engagement and thoughtful questions by the panel of judges."
Flower explained that the prize winnings will be used to renovate rehearsal spaces for clients, which he anticipates will increase operational profits by 88 percent by the end of 2025. He also plans to purchase capital equipment and pay legal fees as the company converts its operating structure to a multi-stakeholder cooperative model, providing the framework to enter equity fundraising through community engagement.
"It takes community to build community, and we at DUTCH are excited and proud to be a musical community by and for the creatives it serves," he said.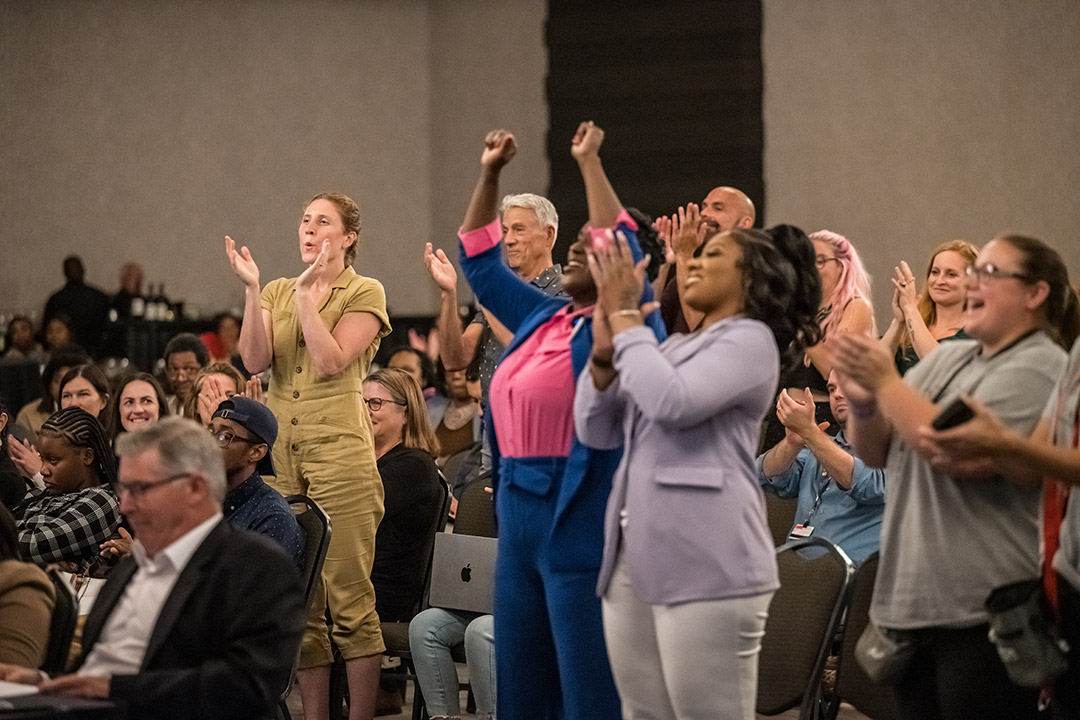 ‌
Traci Westcott/RIT
The Center for Urban Entrepreneurship, located at 40 Franklin St., hosted the sold-out business pitch competition, which was open to start-ups operating within Monroe County and the surrounding Finger Lakes region. During the event, participants also explored a resource fair, where local service providers offered one-on-one advice to business owners.
The runner-up was R.O.C. Events, providers of customized event and party planning services, owned by Marquita Rugless. The People's Choice Award, selected by the audience, was presented to Charlie's Canine Camp in Geneva, N.Y., which offers in-home pet sitting, dog walking, grooming, and training, owned by Lauren Burdsall and Amy Hayes.
The competition was open to business owners who have an existing business plan and business model generating a minimum of $25,000 in annual gross revenue. Participants were required to meet with a business coach during the competition, as well as attend boot camp sessions, which covered pitch etiquette, financial literacy, and review and updating of the business plan. Judges, including several from local universities, examined the businesses' unique competitive advantage, marketability, industry expertise of the owner/team, financial strength of the business, and company growth. More than 20 start-ups applied to participate; six were selected to compete.
"For the first time, this competition included businesses from across the Finger Lakes region, which is a testament to the growth of this competition," said Ebony Miller, director of RIT's Center for Urban Entrepreneurship, a co-working space that helps support low- to no-tech businesses that are invested in revitalizing and growing the local and regional economy. "Each year, it's amazing to see the breadth of new businesses in our area, and their commitment to making a difference in the community. We are proud to offer this platform to new businesses and are always excited to see them reach their true potential."
Assunta Davidson, program manager for RIT's Center for Urban Entrepreneurship, worked with the start-ups throughout the process.
"This business pitch competition has become a highlight of our special programming," she said. "Each of our winners came to the program with different skill sets and different goals. But a commonality was their desire to offer something unique to their constituents, while having an impact on the local and regional economy. That's a win-win-win for everyone."
Added Flower: "The significant growth we all experienced as a diverse set of business owners can be directly attributed to the ROC the Pitch workshops, and I'm so excited to witness everyone in the cohort continue to thrive as they implement the skills and strategies we learned along the way."
The competition, which will return on Aug. 22, 2024, was sponsored by RIT and Rochester Economic Development Corp.
Go to the Center for Urban Entrepreneurship website for information on programs and services.