There are growing concerns about Mitch McConnell's health after the Senate Minority Leader appeared to freeze for a second time recently during a press conference on Wednesday, sparking calls for him to resign on social media.
McConnell was addressing reporters in his home state of Kentucky when he suddenly stopped talking, and was led away from the podium despite insisting "I'm OK." Later the senior Republican's Capitol Hill aides said he had felt momentarily lightheaded and intends to consult a physician, but now feels fine.
On July 26 McConnell froze for several seconds, while appearing disorientated, as he addressed journalists in the Capitol Hill complex. He was taken away by his fellow Republicans, before returning a few minutes insisting he felt "fine" and joking he'd "got sandbagged," in reference to President Biden falling over on stage during a graduation ceremony in June. In March McConnell was briefly hospitalized with concussion and a "minor rib fracture" after falling over at a Washington D.C. hotel.
Following Wednesday's incident House Republican Marjorie Taylor Greene claimed McConnell is "not fit for office," in a post on X, formerly Twitter, also addressed at Biden and Senators Diane Feinstein and John Fetterman.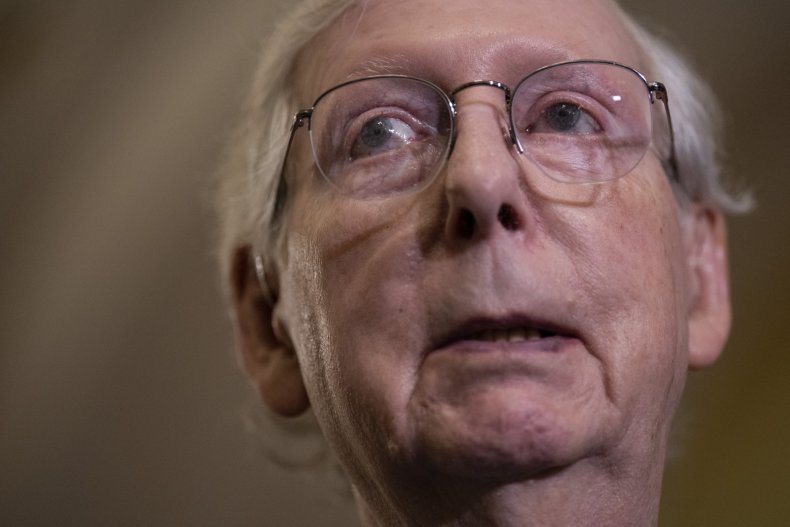 Conservative talk radio host Clay Travis said McConnell "isn't well," adding: "As a general rule, no one over 80 should have jobs this important."
Thus far McConnell has given no indication that he intends to resign, either as Senate Minority leader or from the upper chamber itself. Speaking to Newsweek, Thomas Gift, who heads the Centre on U.S. Politics at University College London, said it may be difficult to persuade McConnell to step aside.
He commented: "Senate Minority Leader Mitch McConnell commands enormous respect among the ranks of the GOP establishment. So any effort to hasten his exit will doubtlessly be done with hushed tones, behind closed doors.
"That said, like with Senator Diane Feinstein, even those who'd like to see McConnell step down gracefully are steely-eyed about the reality. After decades of clenching power so close to the nerve centers of Washington, it may be difficult to convince McConnell to relax his grip and hand the baton to a successor of the next generation."
Newsweek has approached Senator McConnell for comment via the contact form on his official website.
The process for removing a Senate Majority or Minority leader is relatively simple in theory, and this can be done via an ordinary resolution if a majority of the party's senators are able to meet and decide on a replacement. Alternatively they can be expelled from Congress itself, thus making them ineligible to serve as leader, under Article One, Section Five of the Constitution. This requires the support of two-thirds of the Senate, meaning McConnell could theoretically be removed even if some Republicans continue to back him.
If McConnell does leave Congress his replacement as a Kentucky senator will be a Republican, thanks to legislation approved by the state assembly in 2021.
It had been the case that if a Kentucky Senate seat became vacant due to resignation, ill health or death the replacement would be appointed by the state's governor, currently Democrat Andy Beshear. However, the GOP-backed Senate Bill 228 changed this in 2021, meaning the governor must now select someone of the same party as the departing senator, from a choice of three names. This person would hold the seat until a special election determines who takes the seat on a permanent basis, unless there are three months or less to an already scheduled election.
During an interview with Newsweek in July Michael Zona, formerly a communications director for Senator Chuck Grassley and head of the Bullpen Strategy Group consultancy, said there are likely to be three main candidates for McConnell's job if he stands down or is removed. He listed these as Senate Minority Whip John Thune, former Republican Whip John Cornyn, and John Barrasso, who chairs the Senate Republican Conference.