Shares of Blackstone Inc. (BX – Free Report) gained 4.1% in the after-market trading on Friday after S&P Dow Jones Indices said that the private equity firm will join the S&P 500 index. In a press release, S&P Dow Jones Indices said that as part of the quarterly rebalancing, BX will replace Lincoln National Corp. prior to the start of trading on Sep 18.
Notably, Blackstone has a dual share structure with unequal voting rights. After the S&P Dow Jones gave a decision in April to no longer follow a 2017 rule that barred corporations with multiple share classes from index membership, BX was expected to be added to the S&P 500.
Another company to join the S&P 500 index on the same date is Airbnb, Inc. (ABNB – Free Report) . Following the announcement by the S&P Dow Jones Indices, shares of ABNB rallied 5% in the after-market trading. Airbnb will replace Newell Brands Inc.
U.S. firms that are highly liquid, with a market capitalization of at least $14.5 billion, and meet profitability, liquidity and share-float standards are the ones that can qualify for the S&P 500.
The S&P 500 index is rebalanced each quarter. Mostly, additions and removals to the index happen during this time. However, companies can be added or removed from the index at other points of the year, like after mergers and acquisitions.
The adjustments to the index are made by the S&P Dow Jones to account for shifts in market capitalizations and, sometimes, to adjust for the market's rotations.
Being the largest alternative asset management company in the United States, an addition to the S&P 500 index will increase Blackstone's share price, further boosting investor confidence in the stock.
BX's broad product diversification and organic growth prospects look encouraging. The company is expected to continue benefiting from its revenue mix and superior position in the alternative investments space. Its robust fund-raising ability will further support profitability.
In the past six months, shares of BX have gained 14.2% against the industry's decline of 4.6%.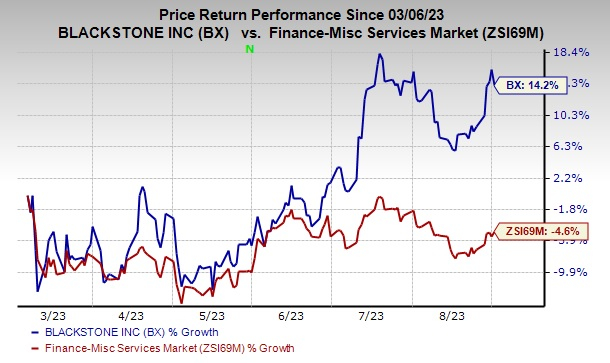 Image Source: Zacks Investment Research
Currently, BX carries a Zacks Rank #3 (Hold). You can see the complete list of today's Zacks #1 Rank (Strong Buy) stocks here.
A better-ranked stock from the same space is Midwest Holding Inc. (MDWT – Free Report) . MDWT's 2023 earnings estimates have been revised 24.2% upward over the past 60 days. The company's shares have gained 59.1% in the past six months. Currently, MDWT sports a Zacks Rank #1.